AWAKENING SELF – NATURE OR NURTURE? 
All of us have inborn talents and potential.  We can choose to turn it into abilities, or it just remains as a potential.
In Mindset: The New Psychology of Success, Carol Dweck writes:
What are the consequences of thinking that your intelligence or personality is something you can develop, as opposed to something that is a fixed, deep-seated trait?
Personality profiling tool such as Myers-Briggs Type Indicator ® MBTI allows us to understand our natural, inborn personality preferences while Emotional Intelligence provides us with the tools to manage and develop ourselves through self and social awareness.
"Knowing Others is Intelligent, Knowing Yourself is True Wisdom.
Mastering Others is Strength, Mastering Yourself is True Power."
-Lao Tzu
A leader's journey starts with self-awareness and self-leadership.  At Brainwave, we enjoy working with our participants in the area of self-development, especially when we see the participants experiencing the 'Aha' moments.
CONNECTING WITH OTHERS – ATTITUDE OR JUST DIFFERENT? 
"I don't know how to do it.  I don't know how to tell you that" – skill gap
"I don't know how to do, and I don't care" or "I know how to do it, but I don't want to do it" – attitude
I know how to do it, but I can get it done differently" – personality differences
There is a difference between skill gap, attitude and personality difference.  The key focus is to put yourself in another person's shoes and start seeing things from their perspectives. 'Flex' our personalities to get the best results in a team. Remember: personalities are inborn but it can be developed and flexed.
Working and collaborating with others means recognising and embracing diversity. It also means appreciating and respecting the different talents, opinions and perspectives as well as having the courage to face conflicts positively and turn it into results.
At Brainwave, we work with our participants to see things from different lenses which helps to enhance communication, collaboration and conflict management in a team.
EQUIPPING LEADERS – DIRECTING, COACHING, SUPPORTING OR DELEGATING?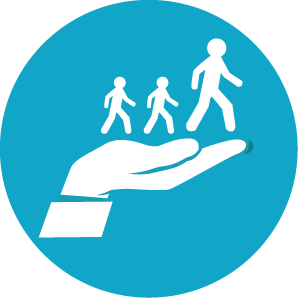 'The Leader Who Had No Title' – a book by Robin Sharma. Do you believe that you can be a leader without an official title? An authentic leader firstly displays the leadership attributes even before they obtain the title.
Great leadership is about intention, attitude – combining courage, consideration, thoughts and heart.  Most importantly – all of us carry the potential to be a leader.
At Brainwave, we believe that the principles of leadership can be taught and caught. We aim is to inspire people to realise and appreciate their leadership potential. We have seen young executives rising to challenges, taking up leadership during training activities and at work. We would love to continue to nurture the potential leaders, by giving them strong encouragement or a gentle nudge, whenever and whichever is appropriate.
INSPIRE INNOVATION- IS CHOCOLATE REALLY A CHOCOLATE?
Most children see things from an innovative lens – they can create something entirely different from anything around them.  A big leaf can be a 'bus'; a small hut can be a castle… When did we lose that ability to imagine, create and innovate?  Can we return to that childlike innovativeness?
It starts with us being comfortable with unfinished/imperfect ideas and choosing to stretch our mind to see unlimited possibilities.  We have seen different innovative ideas on how chocolate can be used (without looking at it as a chocolate), all because participants learn to be comfortable with unconventional ideas.
At Brainwave, we choose to be innovative with our training deliveries, always looking for opportunities to improve, not giving up on ideas at its infancy, but building it up through continuous improvement and discussion.  We also stretch our participants' imagination causing them to see things from different perspectives and to create new things and new ideas.
CELEBRATING REWARDS – THE RABBIT OR THE TORTOISE?? 
Every journey begins with baby steps; each step brings us closer to the results that we hope to see.  At Brainwave, we believe that both small and big wins are worthy of celebration. Every small win represents a move forward towards the big win.  We work in partnership with all our participants, setting, stretching and celebrating the achievement of every milestone.
DEVELOPING A BUSINESS MINDSET – OPERATIONAL AND BIG PICTURE- CAN YOU BE BOTH? 
Peter Principle states that we promote people to their level of incompetence. Most people are promoted due to their outstanding performance in their area of expertise. They were probably expert in their areas but may not immediately be ready to be a business leader as yet. One of the key areas to develop as a leader is the ability to look at situations from different perspectives, including business perspectives. Therefore, a new leader needs to be able to assess information, decisions and results from both operational and business perspective.
At Brainwave, we aim to accelerate the learning journey for new leaders, enabling them to contribute to the organisation as quickly as possible. To do that, we believe strongly in providing these young leaders with business knowledge, strategic thinking, critical thinking and innovative thinking, all of which contributes towards business mindset.